We Support the Arts!
Napa Valley's source for all the art supplies you'll need including oil, acrylic and watercolor paints, instructional art books, portfolios and easels and much more. We offer all the most popular brands including Liquitex, Golden, Grumbacher, Montana, Prismacolor and Winsor & Newton. We're located in the heart of the Valley off Highway 29. We'll do our best to locate supplies that you haven't been able to find elsewhere. >
We order supplies 3-5 times a week; piggy back on to our orders. You will pay no shipping charges and will receive any promotions that are offered at that time.
Can't figure out what to get that special artist in your life? We offer gift certificates for any amount.
View Larger Map
EVENTS 2014

Grumbacher Pre-Tested Oil Colors
Saturday December 6th
1:00pm - 2:00pm
FREE


Jacqueline will pain a brief demo painting explaining certain blending techniques and effects while using Grumbacher Pre-Tested Oil Paints and Mediums. Please join her in this exploration through Grumbacher Pre-Tested Oil Paints, mediums and technical tools of the trade!
Jacqueline Ford is a native northern Californian artist and educator who has devoted her life to bringing forth and encouraging beauty in the world.
She has a B.A. in Art from U.C. Berkeley and an MFA in Art from the University of Hawaii, Manoa. Combined years of art instruction between public institutions and University level at California State University East Bay is 15 years.

Sign up for this event over the phone, through email or in store today!
E-mail us at info@napavalleyartsupplies.com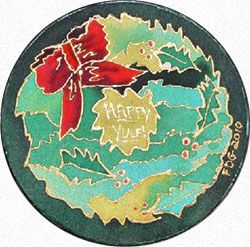 Holly Silk Wreath Workshop
Sunday December 7th
1:00pm - 4:30pm
25$ FEE CASH & CHECK ONLY


Please join visiting Artist Diana Liebe for a workshop making a beautiful hand painted holly wreath on a stretched silk hoop.

Diana has been teaching arts and crafts for many years and is well liked by her students. Her workshops are fun and affordable. Each participant will be shown step by step how to create these lovely Holly Wreaths perfect for your home décor or for a special gift for that special someone in your life.

There is no experience necessary and all supplies will be available. You only need to bring a smile!

The cost of the class is $25.00 which covers all of the supplies for you to paint one Silk Holly Wreath.

Payment due at the beginning of class, please ONLY cash or check.
Sign up for this event over the phone, through e-mail, or in store today!







Sennelier French Artists' Watercolors
December 13th
1:00pm - 3:00pm
FREE


During this demonstration you will see how Sennelier's vibrant watercolors bring luminosity and brilliance to your paintings.

Learn how working on Fabriano Artistico watercolor paper with Raphael brushes offer the best control for any artist.

Find new ways to experiment with water-soluble colored and graphite pencils.

Explore mixed media techniques using all these products!

You will learn useful techniques and tips to help you create your own beautiful artworks, along with fun facts on paint and paper.

Julia is a freelance comic book artist and teacher currently working in both fields. To see some of her work visit wasteofpaint.net
Sign up for this event over the phone, in store or through e-mail today!

Sale starts November 24th, ends December 30th!







New Studio Designs Drafting Tables, Craft Stations, Chairs, Furniture and more!